MATT BUSCH GETS MARRIED!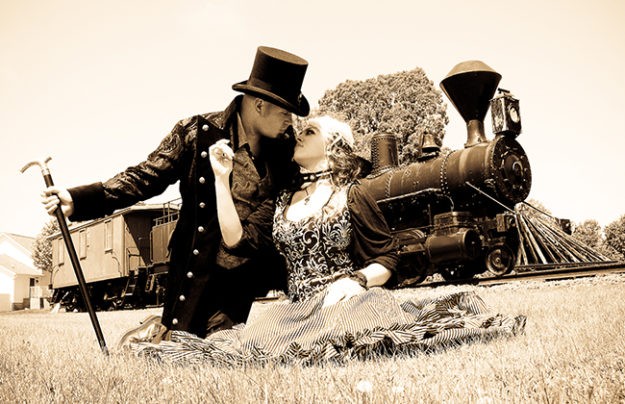 On September 18th, Artist/Writer/Filmmaker Matt Busch wed Artist/Designer/Puppeteer Lin Zy in Royal Palm Beach, Florida.
Years prior, Lin Zy had been a student of Matt's, but the two also shared common friends and attended the same high school. Before dating, Matt and Lin Zy had collaborated on a number of projects, including the Matt Busch Playing Cards and a number of Hollywood is Dead posters. Lin Zy, an artist in her own right, has provided art for several STAR WARS Galaxy Trading Card sets, and illustrated book covers for the Jake Bashe mystery novels.
Matt and Lin Zy wed in a private park in front of a small number of family and friends, including MattBusch.com designer/photographer Paul Michael Kane, who captured the extraordinary images. Matt's father, Frederick Busch was his best man. Lyn Zy's father, Clayton Selestow, is the minister who performed the ceremony.
After their vows, Matt and Lin Zy wrangled up their families and friends and hopped onto the largest cruise ship in the world, Royal Caribbeans' Allure of the Seas, for a week-long honeymoon through the Caribbean, with stops in the Bahamas, St. Thomas, and St. Martin. Look for videos soon which will share the adventures through the vivid eye of Paul Michael Kane.
As for the future, on a personal level, the couple will live happily ever after. (A larger reception for the couple will be held in Michigan this November.) On a professional level, expect to see some pretty wild creative collaborations. Up first, Lin Zy has designed all the puppets for the final "all-puppet" episode of You Can Draw STAR WARS, which drops this winter.