ALL-PUPPET HOW TO DRAW STAR WARS VIDEO PREMIERES TOMORROW!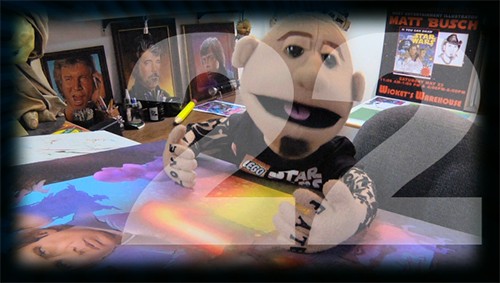 Years in the making, Matt Busch is about to unveil the series finale of the How To Draw Star Wars video tutorials. Going out with a bang, this triple-sized installment titled "Episode 22: Break into the Biz!" promises to give aspiring artists insight on getting work with industry giants like Lucasfilm. Always entertaining with typical Busch mayhem, the pearls of wisdom this time around will be done with all puppets!
Busch began filming episodes for the series in 2006 as a promotional vehicle for the book You Can Draw Star Wars from DK Publishing. Written by Lucasfilm's Bonnie Burton and co-illustrated with Tom Hodges, the Bestseller eventually became DK's top selling Star Wars book of all time. The promotional video series debuted on StarWars.com and DK.com, but also shattered records on social networks like YouTube and MySpace TV. The first 2 seasons of videos were also collected onto limited edition DVDs.
The popularity of these videos can be attributed not only to the vast educational material, but Busch's fast-paced visual presentation, sprinkled with comedic skits. Busch comments, "I love watching artists' demos and video tutorials, but they can often be boring. Drawing is supposed to be fun, so I try to keep that magic in my videos." Examples of Busch's past antics include: a parody of VH-1's Behind the Music, dressing as Indiana Jones, models fighting in Slave Leia costumes, and teaching to draw anime in Japanese (with English subtitiles). The most popular episode to date features Busch donning an afro wig to impersonate Bob Ross with "Happy little interrogation droids."
In the upcoming series finale, Busch plans to outdo them all with an episode filmed almost entirely with puppets! Hand-crafted by Busch's wife Lin Zy (who is also a licensed Star Wars artist), the scenes find Matt Puppet on Dagobah training with Yoda to be a Jedi-like artist. Puppet cameos include Han Solo, Chewbacca, Princess Leia, Sesame Street characters, and even the triumphant return of Bob Ross. However, the episodes are never just fun and games. "Break into the Biz!" also vows to give the inside scoop on how to build a portfolio, network with big shots, and make your dream career a reality. It also features exclusive interviews with veteran Star Wars artists like Russell Walks, Randy Martinez, and Spencer Brinkerhoff.
The final episode of How To Draw Star Wars right here at MattBusch.com and his YouTube channel on Wednesday, April 18th, 2012. "It's kind of emotional and bitter-sweet." comments Busch. "I can't begin to describe the amount of work put into these videos over the last six years. I set out with a master plan to do three full seasons and completed exactly that. The entire series captures a pretty thorough education for aspiring artists, so I feel my work is done." Closing this chapter in Busch's career is also paving the way for his next big thing, which he's currently tight lipped on. One thing's for sure, the Force will be with him. Always.
To see the all previous 21 episodes of How To Draw Star Wars, visit Busch's YouTube Channel: http://www.youtube.com/mattbusch. Once there, be sure to click the Subscribe button so you can be alerted with Busch's future videos!