HOLLYWOOD-IS-DEAD KICKSTARTER!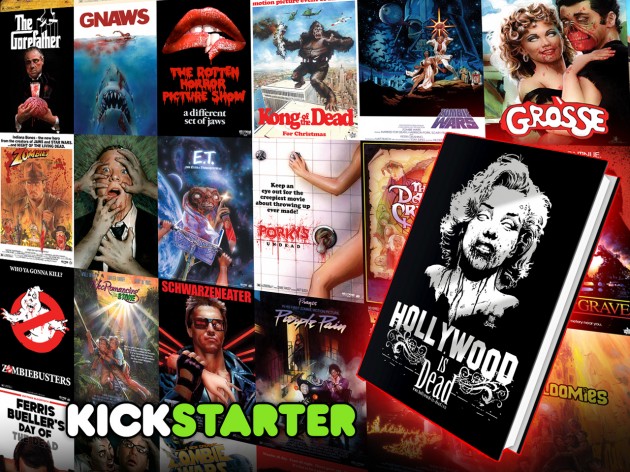 Artist Matt Busch has just released a Kickstarter campaign for the long-awaited Hollywood is Dead coffee table art book. Clocking in at 192 pages, the hardcover book will feature the giant collection of zombified parody movie posters that Busch has illustrated over the past five years, dozens of which have never been seen. The tome will also take a look behind-the-scenes at how the posters are created and feature a gallery of his other zombie-related works for properties like Night of the Living Dead and The Walking Dead.
The Hollywood is Dead project began as a series of Star Wars movie poster images at the request of Lucasfilm, only to be repainted by Busch into a twisted undead universe. With fandom hits like Zombie Wars: The Living Dead Strike Back, it was clear that the artist was destined to move beyond Star Wars and into the rest of the iconic cinema classics. The project soon gained attention on G4TV's Attack of the Show and Late Night with Jimmy Fallon as Busch unveiled one new zombified poster after another. Fan favorites include Breakfast at Tiffany's (Breakfast is Tiffany), Edward Scissorhands (Deadward Scissorhands) and Toy Story (Toy Gory).
While considered parody, these dark and mangled images aren't meant to demean or desecrate the original movie poster greats. "The book is really my love letter to the movie poster as an art form." comments Busch. "The project has let me not only explore my childhood memories, but study my favorite cinema artists' masterpieces. But I'd be lying if I said the zombie aspect wasn't a guilty pleasure, too!" Hollywood is Dead is Busch's 5th published collection of art, easily the largest, and the first where the all the art produced has a theme and was created with the book in mind.
The idea of doing a crowd-funding campaign wasn't initially considered by Busch. In the last year, he pitched the book to dozens of top publishers and literary agents, most of which saw the potential with Hollywood is Dead. However, Busch was unable to find a match to do the book as a deluxe gallery art book as he always intended. Due to high printing costs, publishers wanted smaller, abbreviated or even censored versions of the book, pushing Busch to rethink his crowd-funding options. "I didn't want to feel like I was asking for charity," says Busch, "but I've supported other Kickstarter projects, and the experience has been nothing but positive, and in fact really exciting. In terms of pledge rewards, I can't think of a better project suited for this than Hollywood is Dead."
Details on how the book will be available outside the campaign are not ironed out yet, but Busch assures that pledgers will get the book well before anyone else, and at a better price. The Kickstarter also features exclusive reward packages, like signed / sketched books, and art prints not available anywhere else. The campaign for the Hollywood is Dead art book (only 4 weeks, which is shorter than most) is now live, and will expire on Thanksgiving Day, November 28th at midnight.
For the Hollywood is Dead Kickstater project page, click here: https://www.kickstarter.com/projects/mattbusch/hollywood-is-dead-coffee-table-art-book/description