MATT BUSCH ILLUSTRATES COVER FOR NEW BLADE RUNNER BOOK!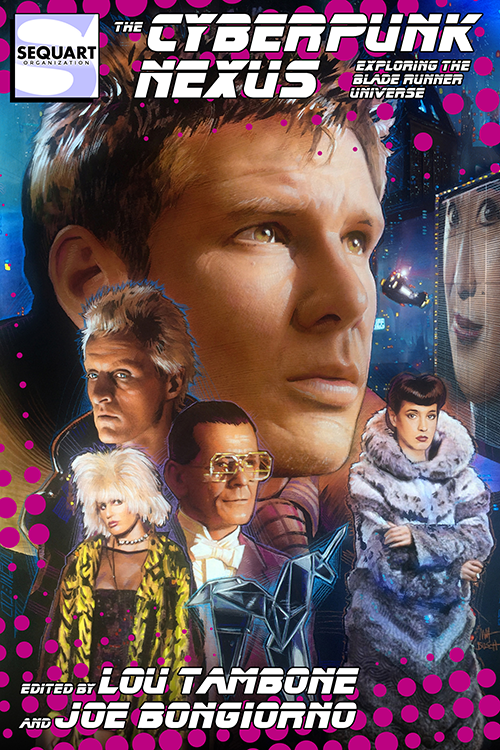 With a new Blade Runner film due this Fall, Matt Busch has illustrated the cover of The Cyberpunk Nexus: Exploring the Blade Runner Universe from Sequart!
In 1982, a new benchmark was set for science-fiction film with the release of Blade Runner. Based on the book Do Androids Dream of Electric Sheep? by the acclaimed novelist Philip K. Dick and directed by Ridley Scott, Blade Runner was a visual and philosophical tour-de-force, set in a dystopian future in which artificially intelligent replicants, nearly indistinguishable from humans, are hunted down by police-operatives known as Blade Runners. Featuring the talents of Harrison Ford, Rutger Hauer, Sean Young, Joanna Cassidy, Edward James Olmos, and Darryl Hannah, the film tackled numerous themes and birthed controversies that have been poured over by fans and critics for thirty-five years.
The Cyberpunk Nexus: Exploring the Blade Runner Universe examines the entire Blade Runner saga, from the original novel to its numerous film iterations. This anthology features insightful essays about the franchise's long history, written by film historians, novelists, and subject-matter experts, exploring such topics as how the film gained its cult status, its influence on other films, deleted scenes, how the film differs from the novel, the science of Blade Runner, and much more.
Though a fan since seeing the film in theaters, this marks Busch's first take on illustrating the property. High hopes are in the air for the new film, Blade Runner 2049, and perhaps more Busch-illustrated images will follow…
For more information on this forthcoming book, visit Sequart's site here: http://sequart.org/books/53/the-cyberpunk-nexus-exploring-the-blade-runner-universe/