MATT BUSCH ILLUSTRATES NEW STAR WARS CD COVER!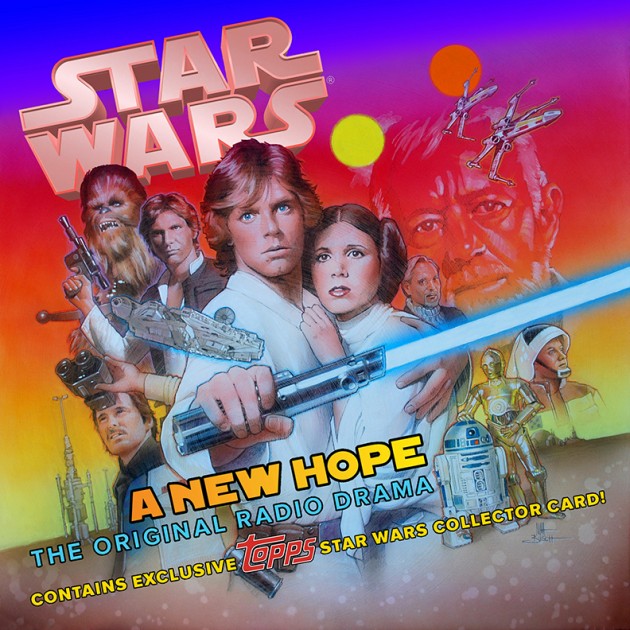 It was just announced that Topps, Inc. and HighBridge Audio and teaming up to re-release the original STAR WARS RADIO DRAMA with tons of new features and content. And Matt Busch is one of many people working behind the scenes to make this release special!
Firstly, the Original Radio Drama from A New Hope will be released on November 6th on Mp3 CD. It features a LightSide Edition cover illustrated by Matt Busch and a DarkSide Edition cover illustrated by fellow Star Wars artist Randy Martinez. Each CD comes packaged with a limited edition Topps trading card featuring the art on the respective CD cover.
The Radio Drama is 7+ hours of story, ripe with additional and extended scenes that go way beyond what you saw in the first Star Wars movie. Plus, this edition has new audio content that goes behind the scenes. Order your limited edition copy HERE!
If that wasn't enough, next month Topps is also releasing a brand new Trading card series called STAR WARS ILLUSTRATED, based on the audible material from A New Hope's Radio Drama! Imagine- all of the bonus and extended scenes which were previously exclusive to the Radio Drama will now be brought to life visually through the cards. And guess what? Matt Busch has illustrated nearly 3 dozen of them!
For most of these cards, Topps has come up with a new idea to keep all the cards among different artists have a consistent look. Topps has teamed up with Comic Book coloring masters HI FI COLOR to color all of the line art produced by the artists, including Matt Busch. The end result is fantastic, and it keeps a great consistensy as you go through all of the story-driven cards.
Busch also took part in this series' sketch cards, which this time feature double-sized panoramic style cards that open like a book! Twice the canvas for truly vivid one-of-a-kind pieces of art. Busch produced nearly 60 of these, which lucky fans will find randomly in their trading card packs.
Busch also has another fully-painted STAR WARS ILLUSTRATED trading card that will be bagged exclusively in the next issue of STAR WARS INSIDER MAGAZINE! Expect that to hit news stands and mailboxes in a few weeks.
The STAR WARS ILLUSTRATED Trading Cards are expected to be released at some point in November… More soon!