NEW ALADDIN 3477 TEASER POSTER DEBUTS AT STAR WARS CELEBRATION!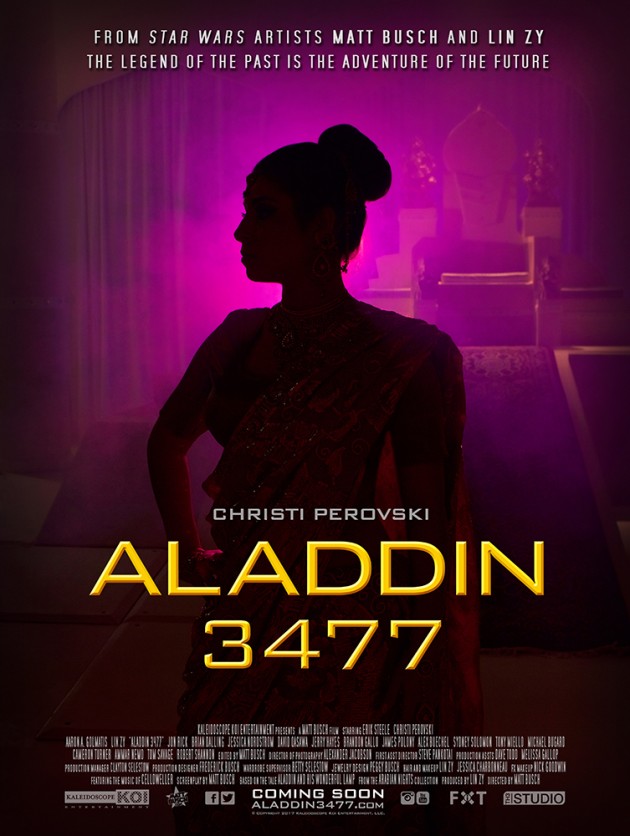 Star  Wars Artists Matt Busch, Lin Zy, and Kaleidoscope Koi Entertainment debuted the brand new ALADDIN 3477 Teaser Poster C at the recent Star Wars Celebration 2017 in Orlando, Fl. The Poster features a silhouette of Princess Kamala, counter-balancing the first Teaser poster that featured Aladdin's sillouette. Together, these posters symbolize the characters looking off the horizon from where they came to the unlimited future of possibilities that will happen when their stories intertwine.
Many of the cast and crew were on hand at the show to sign the new poster, including Christi Perovski, who portrays Princess Kamala in the movie. The response was overwhelmingly positive, and there will be numerous behind-the-scenes videos that document the experience soon!
In the mean time, you can name one of the new Princess Kamala Teaser posters Online, exclusively at the Matt Busch Online Store right here: http://mattbuschstore.com/products-page/featured-products/aladdin-3477-teaser-poster-c/