NEW MATT BUSCH VIDEO INTERVIEW WITH STUDIO SB3!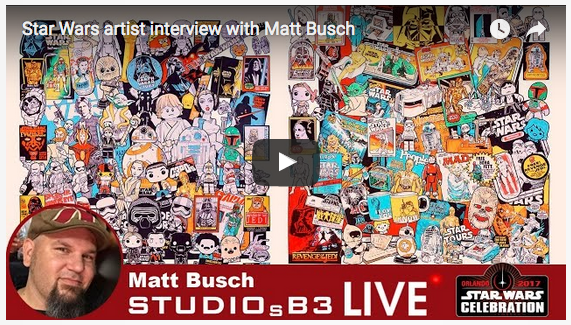 With the announcement of Matt Busch's new STAR WARS Limited Edition Art Print "40 Years of Cosmic Collectibles", Busch spent some time with fellow artist Spencer Brinkerhoff III on his STUDIO SB3 YouTube series!  Busch goes in depth about the epic new piece, but also chats STAR WARS in general, as well as his upcoming ALADDIN 3477 movie!
And- you can now pre-order the limited edition art print here: http://mattbuschstore.com/products-page/featured-products/40-years-of-cosmic-collectibles-art-print-by-matt-busch-pre-order/
Check it out the interview below!