NEW STAR WARS "COSMIC COLLECTIBLES" ART PRINT NOW AVAILABLE!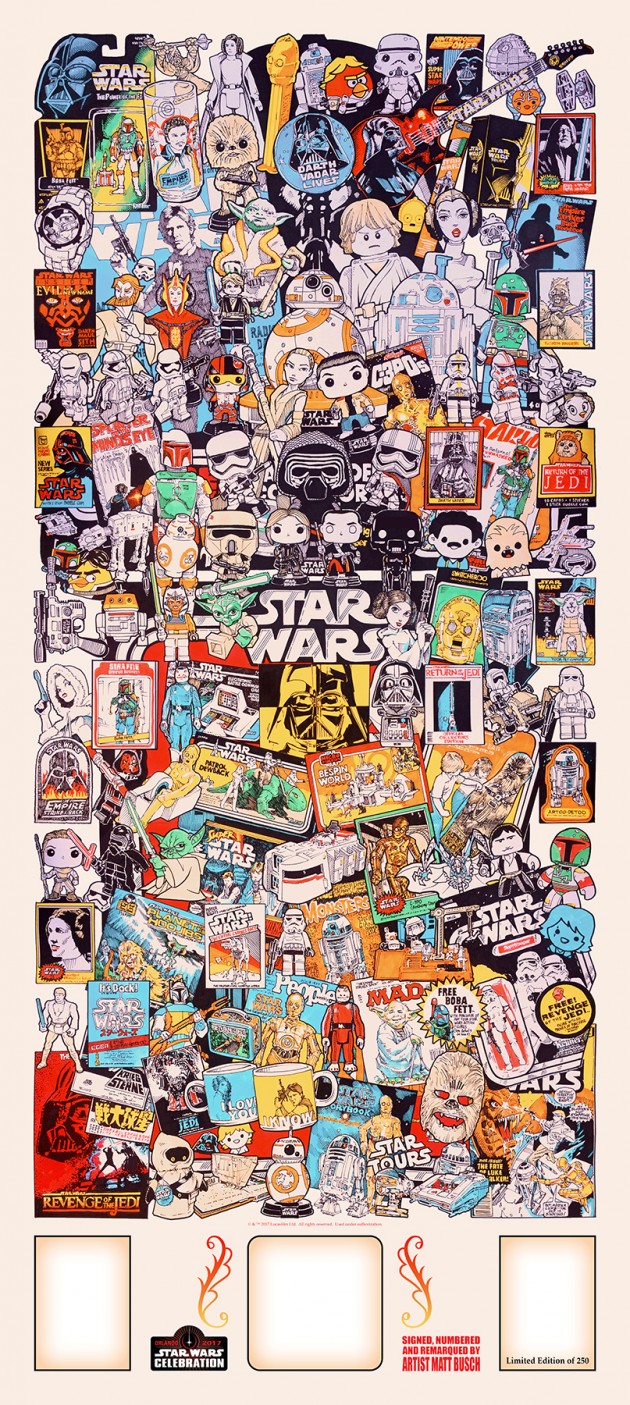 The official STAR WARS CELEBRATION website has just unveiled Matt Busch's latest, and perhaps most epic STAR WARS art print to date. Titled "40 Years of Cosmic Collectibles," Busch has illustrated over 200 of the coolest, rarest, and strangest merchandise licensed by Lucasfilm.
UPDATE: You can now order the limited edition art print here: http://mattbuschstore.com/products-page/featured-products/40-years-of-cosmic-collectibles-art-print-by-matt-busch-pre-order/
The original art itself is the largest STAR WARS art Busch has ever produced, nearly 3 feet by seven feet. Busch comments, "This piece is really just my love letter to Steve Sansweet, and how he has helped us all embrace our love for Star Wars, transcending the movies and into our daily lives." The items depicted range from toys, books, posters, light switches and tape dispensers, from the earliest 1977 products to recent 2016 STAR WARS: ROGUE ONE collectibles.
Details on how to preorder these limited edition prints are coming soon. On th emean time, be sure to check out all 32 official STAR WARS artists exhibiting at the show this April (including Matt Busch's wife Lin Zy) and their incredible new pieces at the STAR WARS CELEBRATION website right here: http://www.starwarscelebration.com/Events/Events-A-H/Art-Show/