NEW VIDEO: POWER OF THE FORCE GIRLS!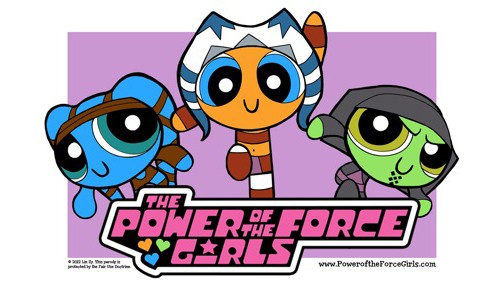 Matt Busch's wife, Lin Zy, has unveiled the first full episode of her animated mash-up parody Power of the Force Girls. The debut episode, "Introductory Off Her" premiered weeks ago at the Star Wars Celebration VI show in Orlando, Florida, to crowds of overjoyed fans.
In addition to conceiving the cartoon (and providing the voice for Babbles), she writes, hand-draws every shot of the girls, and digitally colors everything. Matt lends a hand painting backgrounds, illustrating the villains, and editing the animation. Sound design and audio mastering on this episode is produced by the legendary Ric Viers (Sound Effects Bible), and Aaron Golematis (Aaron G TV) performs the voice of Major Grievance. Check it out!
<iframe width="560″ height="315″ src="https://www.youtube.com/embed/VTt2io6h4xM" frameborder="0″ allowfullscreen></iframe>